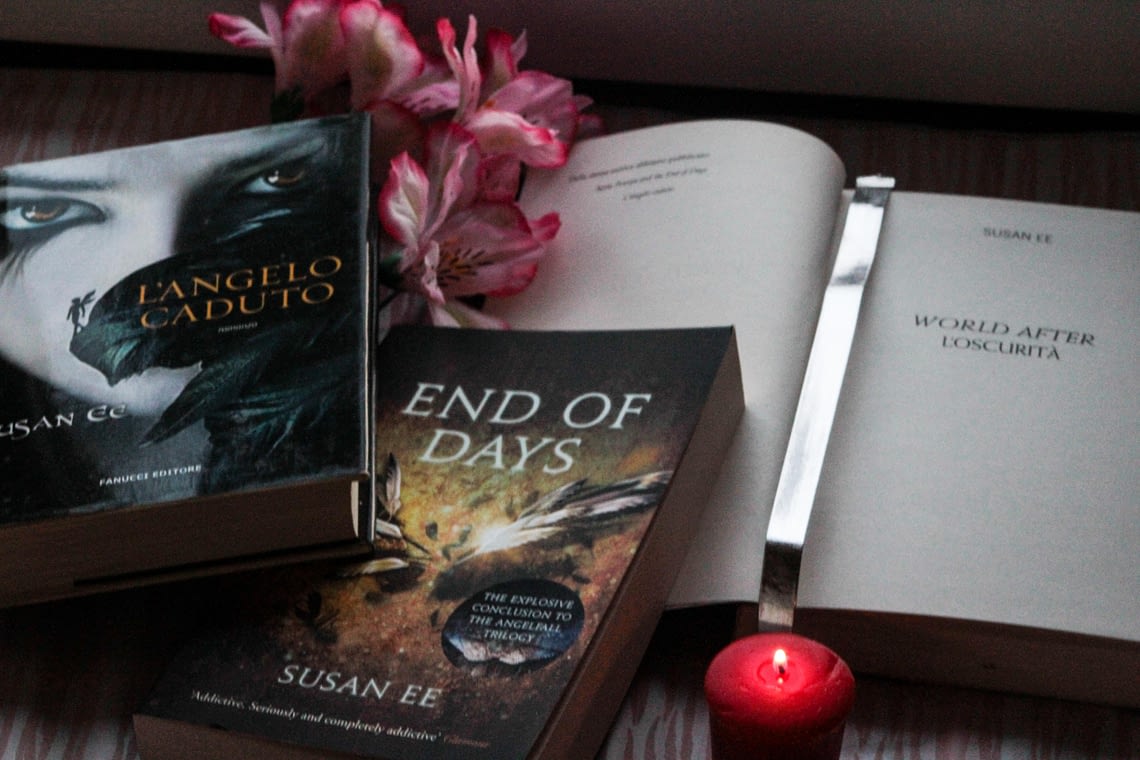 Ultimate Review!! "ANGELO CADUTO" di SUSAN EE
Luglio 29, 2018
PENRYN & the END OF DAYS SERIES
di Susan Ee
Ho comperato il primo volume in libreria, scoperto per caso. Mi attirò la copertina e la grandezza del romanzo, non particolarmente voluminoso. La serie "Penryn e i giorni della fine" comprende: Angel dal (l'angelo caduto), Worldafter (l'oscurità) e The end of days (non edito in italia).
La parola d'ordine di questa serie è SENSAZIONALE.
Andiamo a scoprire perché!
L'ANGELO CADUTO
Penryn è la protagonista di questa trilogia, perspicace e forte. Una delle mie protagoniste preferite, forse quella migliore. La sua forza d'animo è unica, condizionata dal rapimento della sorella inizia la corsa al salvataggio della sorella. Fin qui nulla di strano, se non l'ambientazione fantastica, distopica in un mondo invaso da angeli quasi alieni. Ad affiancare la protagonista abbiamo Raf, un angelo essenziale e carismatico.
La vicenda è veloce, non si ha il tempo di metabolizzare la situazione che veniamo catapultati in un altro avvenimento. Ricco di sensazioni e immaginazione.
WORLD AFTER – L'OSCURITA'
In questo sequel abbiamo una fusione travolgente, di azione e adrenalina. Sulla scia dell'angelo caduto, Susan Ee continua caricare i suoi romanzi di tensione e sensazioni che ci abbracciano. Leggere questo libro è stato come scalare una montagna, ovviamente senza alcuna difficolta, perché ogni pagina era un crescendo di emozioni e suspense. Tra le macerie di San Francisco, Penryn lotta per sopravvivere insieme a sua madre e alla sorella ritrovata. La nostra eroina fantastica, è disposta a tutto pur di difendere le loro vite, scoprendosi a volte impotente. In questo romanzo ci troviamo catapultati in un viaggio disperato che metterà la protagonista davanti alla crudele ambizione degli angeli e ai loro piani di distruzione.
A differenza del primo volume iniziamo a percepire un'aria più cupa, che caratterizza la narrazione. I tratti gotici e i sentimenti di Penryn si fondono a tal punto da donarci una lettura che affascina.
THE END OF DAYS
Siamo al volume finale. Qui si definisce davvero il termine SENSAZIONALE, poiché Raf e Penryn affrontano di tutto per salvare il mondo e l'umanità. Ogni avvenimento ci segna, insieme a Penryn lottiamo, amiamo e speriamo. Tutto cambia in ogni secondo, ogni pagina fa capovolgere il pensiero appena fatto un momento prima. Purtroppo, è stata una lettura difficile per alcuni versi, poiché solo in inglese. Ma la difficoltà ne vale la pena, perché ci fa sentire completi. Speriamo un domani esca anche in Italia, così da completare la trilogia.
"Susan Ee è una scrittrice brillante. Ha creato un mondo fantastico con personaggi affascinanti, reali e immediati. Una perfetta combinazione per un grande film fantasy. "
Sam Raimi, regista di Spider-Man e La casa
Quest'impressione è riportata sulla copertina del primo libro, ho scelto di metterla anche in questa recensione perché rappresenta la trilogia. La forza intrinseca della storia tessuta da Susan è talmente forte e palpabile da rendere unica questa trilogia. Gli angeli non sono i soliti angeli caduti che leggiamo, con i soliti stereotipi di angeli puri. Susan Ee ha stravolto la figura dell'angelo, tessendo una storia e una psicologia dei personaggi in modo unico. L'amore non è in primo piano, come nella maggior parte dei fantasy, è la vicenda affrontata dai due protagonisti a tenerci legati ai libri. L'apocalisse angelica è raccontata con maestria e furbizia, alcuni elementi purtroppo me li sono persi soprattutto nell'ultimo libro.
I libri hanno un grande impatto sul lettore, coinvolgenti e appassionanti ci conducono in una storia unica attraverso una scrittura semplice e sintetica. Una trilogia unica che vale la pena leggere.
Voto: 📚 📚 📚 📚 📚
Vi consiglio questa trilogia, non fatevi spaventare dal libro conclusivo in inglese. Il primo capitolo sembrerà difficile, ma appena lo terminerete inizierà ad essere sempre più semplice. Una trilogia forte e travolgente, che ci insegna a combattere nel vero senso della parola. 
La vostra Clara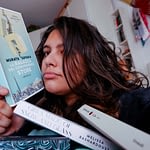 Sono la Boss di Dreamage Blog, ma sotto sotto sono la più ansiosa delle blogger e quella che legge di più. Viaggio e fotografo in giro per il mondo, ma insieme a me ho sempre qualcosa da leggere, non importa il genere!