Buon Anno!!!
Dicembre 31, 2018
Grandissimi auguri da Suitcase of dreams, siamo felicissimi di questo anno appena passato, non è mai stato così ricco. Speriamo in un 2019 felice per tutti voi readers. Speriamo in nuovi incontri e nuove collaborazioni <3
Un 2018 diverso, unico e speciale per tutti. L'arrivo di Sara e nuovissime idee da usare per questa grandissima realtà, che è diventata una fonte di sicurezza e un mondo in cui rifugiarsi.
Suitcase of dreams è per noi un luogo di incontro di passioni, se mai vorrete collaborare e proporre articoli per il blog, noi siamo disposte a publicarli <3
Amiamo arricchirci e vivere di novità, di piccole cose che possono darci tantissimo. Vogliamo dire un grandissimo grazie a tutte le persone che abbiamo avuto il piacere di incontrare, di sentire per messaggio o tramite un commento.
E' un grazie grande come una casa, perchè scrivere per noi è molto importante e vedere che ci apprezzate è molto importante per noi. Speriamo di aumentare e vedere in questo 2019 un incremento soprattutto da parte nostra delle pubblicazioni e nelle interazioni su facebook e instagram. <3
Auguri di Buon Anno a tutti<3
Da Clara e Sara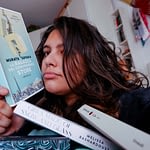 Sono la Boss di Dreamage Blog, ma sotto sotto sono la più ansiosa delle blogger e quella che legge di più. Viaggio e fotografo in giro per il mondo, ma insieme a me ho sempre qualcosa da leggere, non importa il genere!