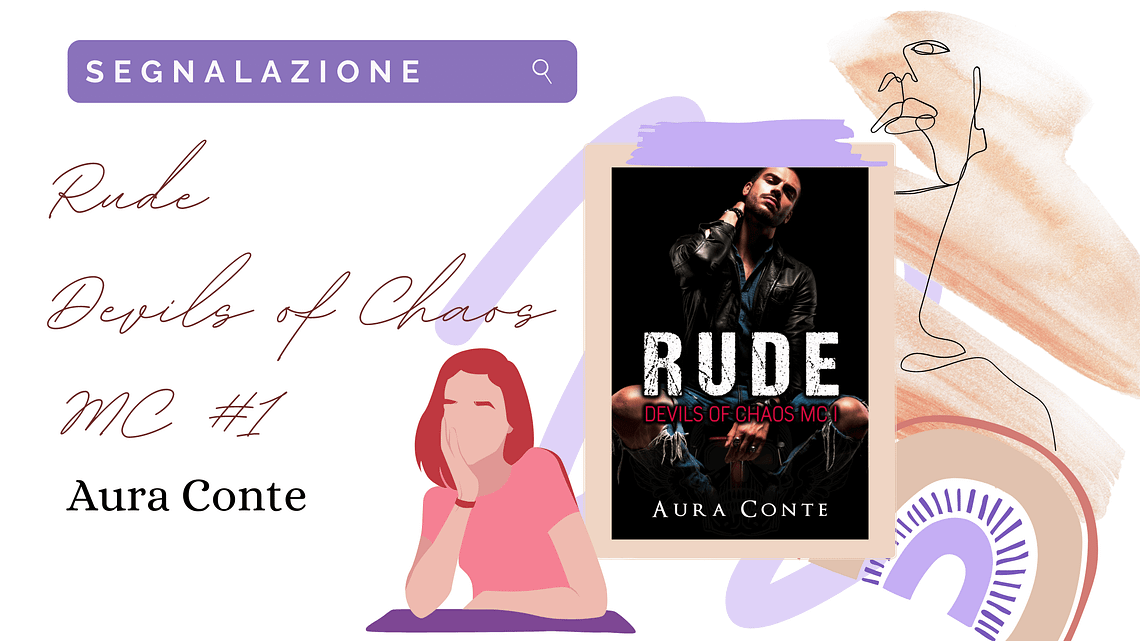 Dark romance/suspense «Rude» di Aura Conte!
Maggio 20, 2021
Buongiorno readers, oggi vi parlo di un dark romance/suspense di Aura Conte dove l'amore e il pericolo vanno a braccetto. Questo romanzo è il primo volume di una serie di dark romance/suspense adrenalinici ma romantici e tormentati sui membri dei Devils of Chaos. Siete pronti a scoprire chi saranno i protagonisti?
Un nuovo Dark Romance/Suspense tutto da scoprire!
Un temporale, un guasto improvviso e il destino ti trascina all'Inferno…
Greenville, stato di Washington.
Amy Long è una giovane professoressa di musica con una vita come tante. Non ha mai amato esporsi e questo le è costato accontentarsi di un posto di lavoro in una piccola scuola di provincia, anziché il palcoscenico come musicista. Eppure, è appagata e felice della sua routine.
Durante un giorno come tanti, un guasto allo scuolabus e altri piccoli dettagli la costringono ad accompagnare a casa uno dei suoi alunni, che abita lontano dal centro. Tuttavia, anziché ritrovarsi davanti a una normale abitazione, scopre che il bambino seduto nella sua macchina vive all'interno del quartier generale di un gruppo di motociclisti poco raccomandabili… e tra tutti, uno la colpisce.
È il leader, il più alto ma anche colui che sembra volerla strozzare per aver osato entrare nel loro territorio.
Travis Rover è il vice presidente dei Devils of Chaos, un club di motociclisti che detta legge al confine nord-ovest. Un criminale al quale non importa di sporcarsi le mani, quando ciò serve per tenere al sicuro i suoi affari e i suoi "fratelli".
Proprio per colpa della sua pessima personalità rude, diffidente e intollerante, diventa una furia quando scopre che una civile ha riportato a casa suo nipote e per tale motivo, decide di affrontarla.
Nessuno si deve intromettere negli affari della sua famiglia, pena la morte!
Un conflitto inatteso con un altro club, pronto a conquistare il territorio dei Devils, distrugge però i suoi piani e in men che non si dica, si ritrova in casa proprio quella stessa ragazza fin troppo curiosa che ha osato varcare il limite…
Nota autrice: questo libro contiene sia scene di sesso ma anche un linguaggio molto (davvero tanto) scurrile, per tale motivo non ne consiglio la lettura a chi non è abituato a tutto ciò.
---
Una storia accattivante e intrigante, dove Amy una giovane insegnante di musica di ritroverà immischiata con un branco di motociclisti dall'aria a dir poco tranquillizzante, Travis il loro leader è talmente bello e rude da farle venire la pelle d'oca su tutto il corpo.
Cederà Amy al buio profondo degli occhi di Travis? O sarà troppo pericoloso per i suoi gusti?
Odio, passione, motociclette, crimine, sangue, amore e guerre di potere e chissà cosa altro potremmo trovare all'interno di questo romanzo!
Alessia!
Sono la più piccola del team. Amo leggere i romance e i fantasy ma allo stesso tempo mi piace gustare i popcorn davanti a un film.