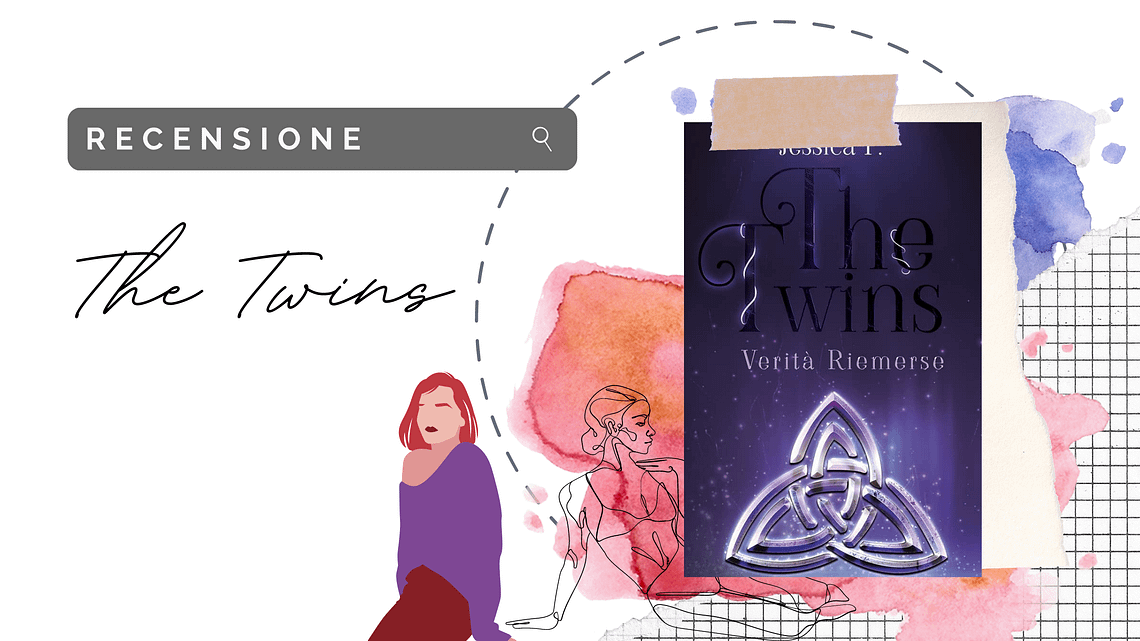 Review Tour: The Twins – Verità Riemerse di Jessica F.!
Marzo 22, 2021
Buon pomeriggio readers, oggi vi parlo del nuovo romanzo Fantasy romance di Jessica F. che vedrà come protagonisti due gemelli. Mi sarà piaciuto il libro?
Rivelazioni e Avventura.
Amy aveva sempre pensato che tutto il suo mondo fosse Nate, il suo gemello, l'unico che non l'aveva mai abbandonata, l'unico che le era sempre stato vicino e che aveva lottato con lei ogni maledetto giorno. Credeva di essere destinata a una vita mediocre nel suo piccolo quartiere di Nottingham, ma si sbagliava.
Di colpo tutto per Amethyst è cambiato: la Congrega è arrivata, portando con sé i suoi segreti, i suoi incantesimi, le sue verità scomode. Scoprirà così chi è, a cosa è destinata e, grazie ad Alex, cosa significa amare davvero. Il cammino verso la felicità e la verità è ricco di ostacoli; solo il vero amore potrà aiutarla a superarli.
---
Amy aveva sempre pensato che tutto il suo mondo fosse Nate, il suo gemello, l'unico che non l'aveva mai abbandonata e che le era sempre stato vicino ogni maledetto giorno, a partire da quando sono stati abbandonati e affidati a varie famiglie nel corso degli anni. Essendo sempre stati da soli, entrambi hanno dovuto lottare contro il mondo a qualunque costo ma adesso non sono più soli, la loro vita viene stravolta da alcuni strani membri di una Congrega che gli racconta una storia incredibile sulle loro origini e sul loro futuro.
Chi è questa strana Congrega che li ha stravolti sul loro passato e futuro?
Oltre ad Amy e Nate incontriamo altri personaggi tra cui Alex, un ragazzo che fin dal primo sguardo prova un attrazione ed un senso di protezione nei confronti di Amy, oltre a questo Nate è insicuro e mille dubbi si depositano dentro di lui a partire dal perchè si trova nella congrega, ma con il passare del tempo con Amy capirà e proveranno entrambi dei sentimenti che li renderanno più coraggiosi.
Come andrà a finire tra Alex e Amy?
The Twins è un fantasy nato dalla penna di Jessica F. contenente al suo interno rivelazioni, perplessità e dubbi, ma allo stesso tempo l'amore fraterno e sentimentale che i nostri protagonisti proveranno e ci faranno sperimentare .
Il romanzo riesce fin dalle prime righe a trascinarti con se nel mistero che lo avvolge provando a superare insieme mille ostacoli che si presenteranno in modo tale da far crescere Alex, Nate e Amy nonostante il passato cercherà di risucchiarli in inganni ed ombre bisognerà stare attenti a non cascarci dentro.
Personalmente la nuova serie fantasy romance di Jessica F. mi ha conquista e non vedo l'ora di scoprire cosa accadrà successivamente.
Voto: 📚📚📚📚 / 5
La vostra Alessia!
Ti piacciono i nostri contenuti? Sostieni il nostro blog donandoci un caffè sul sito di Ko-fi !
Sono la più piccola del team. Amo leggere i romance e i fantasy ma allo stesso tempo mi piace gustare i popcorn davanti a un film.